Dear Loggers!
We have been working for several years to modernize and enhance Campaign Logger. The current version you all know (
https://campaign-logger.com/
) already hints and links to the new version:
https://app.campaign-logger.com/
.
Soon the current version will move to a new URL (where you can still access and use it), and the latest version will take its place. Sometimes next year, this old version will then go to read-only mode.
We started an auto-conversion program to ease your transition and copied and transformed your logs to the new version. As long as we improve the conversion, we will upload the auto-imported logs to our preview stage of the app: https://preview.app.campaign-logger.com/.
The preview stage is used for quality assurance and to try out the newest features before being promoted to production.
To summarize:
To help us ensure a good conversion, please look at the preview and give feedback on the conversion.
You will likely find two conversions: one from October and one from November.
You can safely delete the October conversion.
Please give your feedback on the November conversion: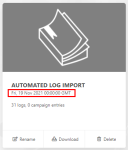 Best regards,
Jochen