New member
Wizard of Story
Hello All;
My name is Troy (which I bet you could figure out from my screen name), I've been playing D&D off and on since about 1977 (let's hear it for the red boxed set!), and I was 10 when I started.
I live on the central coast of Washington State.
My favorite system is Shadowrun (there's nothing like throwing 10-20 d6 at a time), although I do not get a chance to play. Everyone in my area plays D&D. Don't get me wrong, I enjoy playing D&D.
My favorite dice is the d20 that my wife got me. If possible, I'll post pictures of the 1 and 20.
I prefer to be a player for D&D, but if I am going to play at all, I have to DM
I don't consider myself to be a very good DM, which is why I am here: to get better.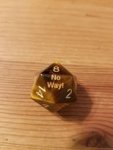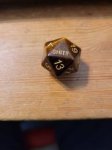 Last edited: