CL Byte Sprite
Staff member
Wizard of Adventure
Beta-Tester
Faster Combatant
Adventure Builder
Gamer Lifestyle
Adventure Master
In Campaign Logger you were able to access the backups of your logs of the past seven days directly without triggering them yourself: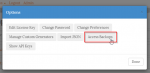 This feature will be discontinued within the next weeks.
We will continue to automatically backup your data of course.
But you will not be able to access it yourself and we will not keep daily backups indefinitely in the future.
Remember: You are still able to backup your data yourself at any time by downloading the logs' JSON files!