Game Master
Staff member
Platinum WoA
Wizard of Story
Wizard of Combat
Gamer Lifestyle
Demonplague Author
Borderland Explorer
Hello everyone! I'm back from vacation. I had a great time camping in beautiful British Columbia.
The weather was fantastic. Our campsite was at the water's edge.
So each morning I got to wake up, make a mug of green tea, and sit peacefully while gazing out at this view: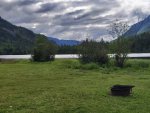 The campground is in a valley carved by glaciers. What you can't see to the left and right are amazing rock faces, mountains, and forest. Such an inspiring view. I wish I could wake up to this every day.
Recently, I was asked whether I plot stories or crawls.
I'm answering this question in tomorrow's Musing.
But I put the question to you.
Do you plot stories or dungeon crawlers?