I'm developing a scifi post-apocalyptic campaign setting in which a major villain is a 'mad' scientist obsessed with research & development of cybernetics with a military bent.
The first adventure will see the players potentially discovering some of the research material (information and artifacts) and while I have a few ideas of my own, I'd like to crowd-source the content to get a really diverse set of possible discoveries.
If you'd like a few lines of background to help seed your suggestions, click the 'spoiler' below.
I'm taking an alt-history angle on the Star Wars universe to give me a well-formed deep background and point of departure.
The scientist and facility are aligned with Cestus Cybernetics, which I've taken creative license to create a covert connection to
Tenloss Syndicate.
The scientist belongs to the X'ting species.
They are developing a cyborg 'supertrooper' to rival the Imperial clone troopers
If you have any thoughts on what might be uncovered, please feel free to post here.
Thank you in anticipation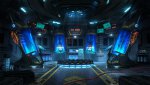 Image credit
Sergey Zabelin