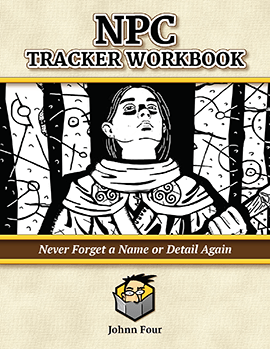 Here's Why the NPC Tracker Workbook Will Immediately Help Your Campaign:
240 names pre-filled in the worksheets for you. Just print and run. No more naming hassles.
Drop names instantly into sessions and make notes in each NPC's own details box.
NPCs are grouped by theme and culture for depth-of-world and better immersion.
Blank pages you can print to name and track as many NPCs as you want for your entire campaign.
Never lose an NPC detail again!