CL Byte Sprite
Staff member
Platinum WoA
Wizard of Story
Wizard of Combat
Gamer Lifestyle
Borderland Explorer
Title: Grenzland (Borderland) - A West Marches-style Game
System: Dungeon Fantasy
Story:

Base and Mission Campaign with changing players and characters
Depending on the mission chosen by the players, the optimal character complement will change
Sub-optimal party composition is part of the fun, though

Sessions:

Once a month up to once every week

Tuesday, Wednesday, Thursday, or Friday
From 7 pm CET (earliest) till midnight (at most) - about 3 hours in length (optimal)
German or English, please indicate your preference

On Discord using video chat and theater-of-the-mind

GM profile: JochenL
The upcoming Season One is my proof of concept. At this time, I want to invite German-speaking players, at least for the first few sessions. After testing and tweaking, I want to open this up to all English-speaking patrons comfortable with gaming in European time zones.
Sessions Summaries:
https://logger-stream.campaign-logger.com/?rss=9d04bc90ab7d4c0a85f51d063cb83f61&mode=next
Fundamentals:
We do not try to complete one mission in one session

We want to keep missions as short as possible, though, but without hastening through sessions

We favor ROLE playing over ROLL playing

We like rolling dice in addition to interactive play, though

The GM will prepare only a few scenes and leave freedom for interaction between player characters
Missions are selected and organized by players, and then prepared by the GM

Player-organized also includes finding a suitable date and time
House Rules:
Q&A
:
What about character creation? You are free to create your character on your own, following the rules. If you don't have the rules (yet), I can provide you a pre-generated character. If you feel uncomfortable creating a character on your own, I will gladly help you. Let's find a date and time so I can guide you through the process.
Where can we talk in character to prepare for our next mission? Please use the associated Borderland - Dancing Cauldron thread for this.
How does scheduling a game session actually work? You say when you want to play and what you want to do. When you are at least 3 players (and at max 5), and I am available as a GM, we will have an appointment! So when some else suggests a time and a mission, chime in early to reserve your seat and/or discuss alternative times/missions, so we come to an appointment soon. Please give me at least a week of preparation for that game! That said, I will surely suggest a date and time (but no mission) now and then. Especially to get new players started or to kick things off.
When are you available then? I am usually available to GM from Tuesday to Friday, starting at 7 pm CET until midnight. I prefer to keep the length of game sessions to about three hours, give or take half an hour.
I am an English-speaking gamer; when can I partake? Create a character, and take part in the in-character discussions immediately! Please give me one or two starting sessions to sort things out. Then I will open up the table to all interested players.
I am not exactly European time zone compatible, but interested in your game; is there a chance...? Create a character, and take part in the in-character discussions! You will also be able to follow along with the adventures as they will be made public due to a West Marches-style game's nature. If you can gather a group of like-minded players during a time I can manage, I will try to get a game up for you once in a while.
My English is not good enough to game by! I can only offer games in German and English. Please add whether you would prefer an English or German game and whether you can or cannot do it in one of the other languages. That way, players know when to join or not.
Map of the Borderland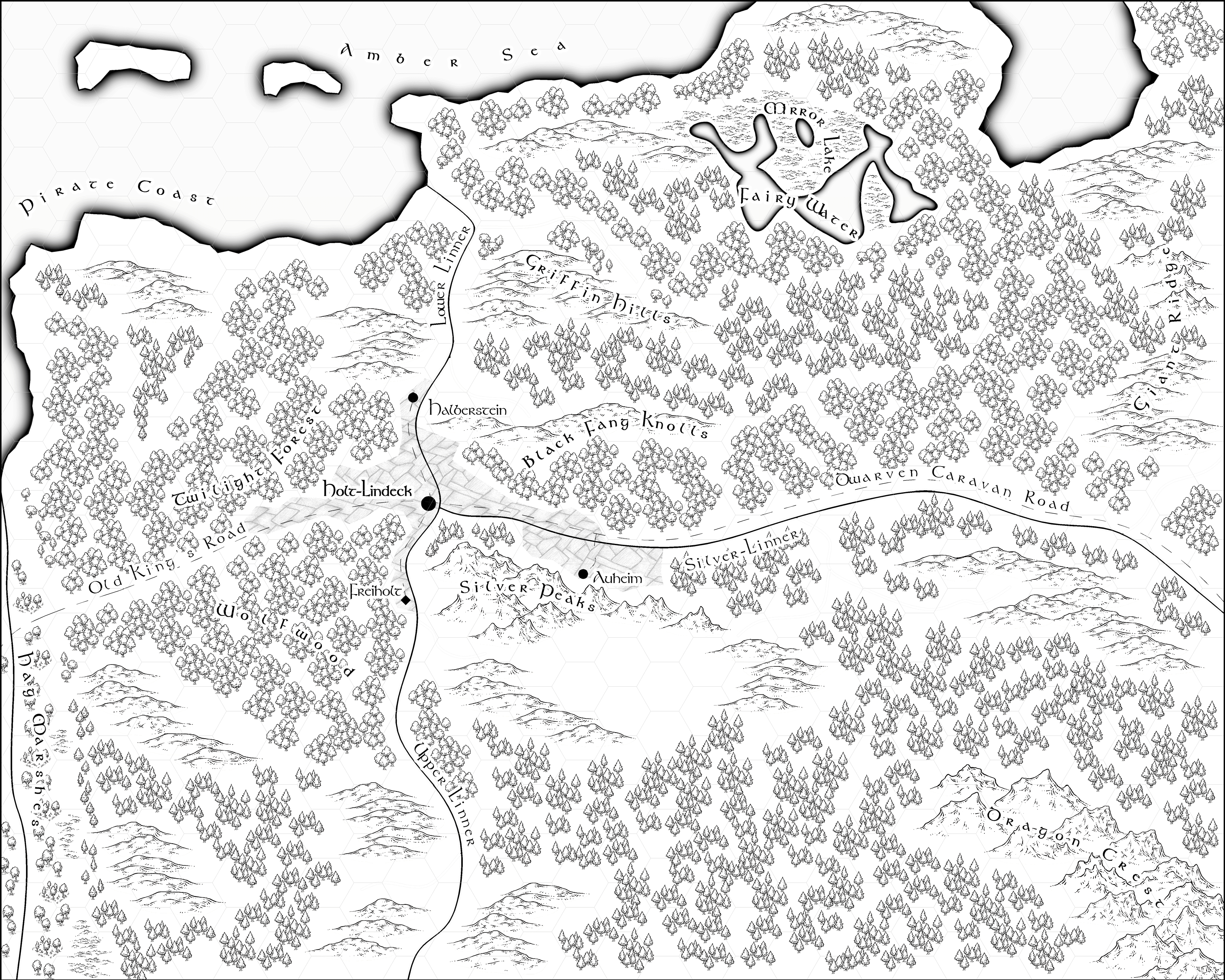 Last edited: