Community Goblin
Staff member
Platinum WoA
Wizard of Story
Wizard of Combat
Borderland Explorer

3 Easy Ideas To Generate Instant Adventure Ideas - Plot Factory Tutorial Part II
From JohnnFour | Published October 18, 2021
Roleplaying Tips Newsletter #1,175
Brief Word from Johnn
I have a couple of website updates before I show you how to create a plot hook machine for your campaigns.
First, there's a great new bunch of tips from Jonathan Hardin on
Visual Aid Session Prep with the Five Room Dungeon
.
Within the great advice are diagram code snippets you can paste directly into
Campaign Logger
and use for your own visual planning.
Second, my business partner Jochen has recently added part six to his online guide about
Starting a West Marches Campaign – Step By Step
.
If you are planning a sandbox, hexcrawl, or West Marches game, check out Jochen's progress.
In them with game and campaign prep, today I give you the second part to the Plot Factory method.
Here are three examples of how to can start getting instant plot hooks and encounter ideas for your game.
3 Easy Ideas To Generate Instant Adventure Ideas - Plot Factory Tutorial Part II
Last week we talked about
Plot Factories as a tool in your GM Toolbox (rpt #1,173)
.
Think of them like spawn points in a video game. Foes keep emerging to assault your character until you destroy the spawn point.
In our adventures and sandboxes, we do the same via Plot Factories that churn out new adventure and encounter hooks like popcorn.
How amazing would it be to have organic, in-game, automagically created hooks for every occasion?
Players ignore all your clues and do something weird? Plot Factory hook reels them back in.
Surprise dice rolls whack your plot? Plot Factory opens up new possibilities.
Need to stall and think? Plot Factory spawns a new encounter to help you do that.
Today, I'm going to show you how to create four types of Plot Factories.
If you're a long-time reader of Roleplaying Tips, then you'll recognize these GM Toolbox tools.
And the best part?
Each of these tools becomes part of your existing campaign.
Meaning, your Plot Factories will spawn 5 Rooms Dungeons and encounters that work 100% with your existing plans and ideas.
It will feel like your campaign is GMing itself once you hook these four Plot Factories up.
In theory, at least.
So let's explore the first Plot Factory type now and put theory to the test.
Example #1: Spikes of Danger
This one's direct from the Adventure Building Workshop.
It's inspired by
Ben Robbins' West Marches campaign model
where he'd put out clear signals to players that their characters were about to tangle with matters above their pay grade.
I turned this concept into something called Spikes of Danger.
Pretend you're making your milieu — my term for campaign region.
You want to fill your milieu with lots of adventure sites or areas of conflicts like faction bases and whatnot.
So you start with a blank map.
You might put your PCs' home base on there to start.
Then you add your first villain or major foe to a spot on the map.
Let's say it's Gregor, the two-eyed cyclops who's building elite bands of brigands to rob king and land along every major road.
And Gregor's lair is nestled in a nice mountain valley that short people find hard to reach.
Next, I create a ring or zone around Gregor's spot on the map.
This zone I label as #1. Gregor's lair is #0.
#1 is filled with powerful giants who guard key routes to Gregor's lair. They've got piles of rocks ready to throw, roll, and slide down onto any approaching foes.
Then I draw a ring or zone around #1.
In ring #2 are numerous giant and giantkin families. You don't want to tangle with mamma giant protecting the homestead. Nope.
I draw ring #3 next that represents the foothills and goblinoid settlements. Goblinoids patrol the foothills as the first line of defense.
This gives us a
danger gradient.
Meaning, PCs will encounter the outer ring first (assuming travel by land) and tangle with goblins.
Should the PCs penetrate region #3 far enough, they'll encounter the giantkin in zone #2.
And if the party gets through #2 intact, they'll encounter the mighty giants armed with boulders the size of a wealthy halfling's house.
Finally, if the characters can overcome the giant threat, they can enter Gregor's lair and try to beard him there.
Each region from the outer ring to the bullseye Spike of Danger represents ever greater threats.
In games like D&D with level progression, each ring signals to the party whether they should proceed.
"Goblins? We can handle goblins no problem."
"Watch out, big giants! Let's get out of here!"
In this way, you give players freedom of choice, but your setting — and therefore fiction — has built-in signals to alert attentive players to the increased danger tier.
Once I've got one Spike of Danger laid out on the map, I'll add another and do the same exercise.
I drop a pin to represent the bullseye of greatest danger and the "head of the snake". Then I add 1-5 outer rings of decreasing threats.
After doing this a few times, I suddenly have an amazing campaign map full of potential adventure. Whether sandbox, hexcrawl, or critical path type campaign, the map gives us a ton of inspiration and game pieces to move on the chess board.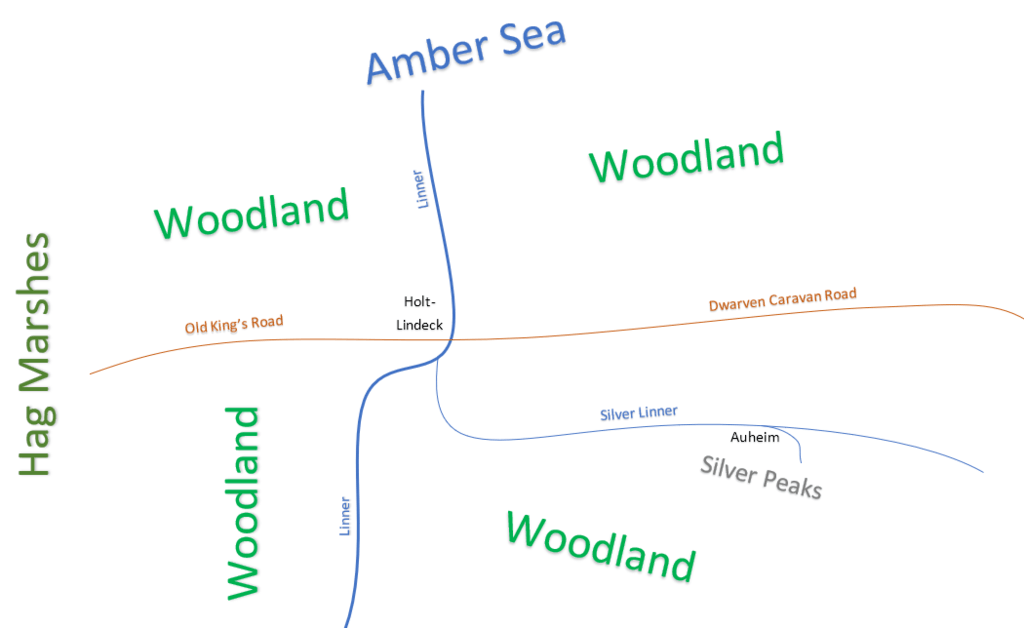 Example of starting map from Jochen's West Marches game
This Spike of Danger, from bullseye to Gregor's lair, can now also become a Plot Factory.
We follow the three simple steps outlined in Part I to create a Plot Factory and turn Gregor into a stream of adventure and encounter hooks as needed.
Step #1: Choose Source
Step #2: Give Source Agency
Step #3: Create GM Moves
For Gregor, we could do this:
Step #1: Choose Source
Gregor the two-eyed cyclops
Giants
Goblinoids
Mountain lair
Mountain outposts
Foothills settlements
Step #2: Give Source Agency
Patrols
Incursions into civilization for food and loot
Gregory has a wyvern steed, as do key giantkin minions
Step #3: Create GM Moves
Aerial Raid
Roadside Ambush
Goblinoid Attack & Pillage
What we've done here is turn a traditional, 3 act,
static
adventure (goblinoids => giantkin => villain) into an
active Agent
within our campaign.
Whenever we need an adventure hook, situation, or an encounter, we can make a GM Move:
Conduct an aerial raid
Ambush along a road
Goblin attack
And it's all internally consistent with our world-building, campaign planning, and adventure design.
Add Spikes of Danger to your milieu map today. And turn them into Plot Factories easily with Source => Agency => GM Moves.
Last edited: