Community Goblin & Master of the Archive
Staff member
Platinum WoA
Wizard of Story
Wizard of Combat
Borderland Explorer

New Players -> New Group -> New Campaign
By JohnnFour | Published February 9, 2022
Roleplaying Tips Newsletter #1,190
RPT GM RF emailed me this question:
Johnn,
I'm about to start a brand new group in my AD&D 1e campaign I call 'In a Handbasket'. All players have Dungeons and Dragons experience, but most have never played 1st Ed.
I have run this campaign twice before. Once for my kids and their friends. Once at my local game store. It took about two years each time. Both groups seemed to enjoy it.
I'm not sure why I feel so nervous this time but I am very excited to share this story with a new group.
Most of the players don't know one another and frankly I don't know any of them well.
What tips do you have for session 0 with a brand new group?
We will have four hours where I expect to present the overarching world description and their current predicament, then we will roll up characters together and probably get an hour or two of play.
What should I do to be sure I am starting with a good foundation?
Thanks for the tip request, RF!
Here are some of my thoughts….
Session #1
I'm a weirdo and am not a fan of Session 0.
Blasphemy, I know. Heh.
First off, does zero really exist? Them fancy maths-people say nothing exists, but that's always been a head scratcher for me.
Joking.
But I do like to think of my first session, regardless of activity, as Session #1.
And if we start as we would end, then Session #1 has a few outcomes we want:
Players get to know each other a bit and feel more comfortable in their own skin
Players have characters they like and are starting to understand
Everyone learns how the party got together and why
Characters (and players) get hooks and set upon at least one path forward
You've set expectations on table behaviour
You play the game for as much of the session as possible
With outcomes bulleted out, let's talk a bit about each.
Make Folks Comfortable
My last Session 1 happened in a busy and noisy restaurant with a group of strangers.
I had almost no space for my kit, couldn't hear my players, and everyone was distracted with meals, customers, and the server checking in on us.
It went awesome.
Of the four players, two of whom hadn't played a tabletop RPG before, three chose to return for Session #2. We had a great time.
The event was a grassroots D&D Day organized by a couple of local people excited with our awesome hobby who wanted to get some gaming happening in our small city.
To help make folks comfortable:
I put their first names and character names on tent cards. Knowing a person's name gives you more confidence when interacting with them.
I did a round table of introductions so people had their first chance to speak up and address the group early on in the session and get that over with. I gave each three easy questions to answer:

Your name
How long you've been playing TTRPGs or D&D
What kind of characters you like to play, if you know

I introduced myself first with a bit about what got me into RPGs, the games I enjoy playing, and what to expect in this session.
Then I laid out some very basic table guidelines.
I don't use a social contract, X card, or other devices.
My preference is to lay the groundwork to facilitate open communication, transparency, and respect for individuals.
If someone has an issue, and understands how to comfortably raise it, and the group expects that to happen from time to time, then we don't need a long list of behavioral house rules.
So I basically laid it out like that.
We addressed concerns as a group as they arose, aiming for best possible outcomes for each group member. I make the final call, especially when there was no clear answer, to keep the game and fun moving forward.
One last item here.
People get more comfortable by playing, not by watching.
I started gameplay as fast as possible, with about 5 minutes of beginning exposition.
I ran even non-combat gameplay through table initiative — going around the table again and again prompting actions.
When players spoke to me about how they interacted with another player, I asked them to address the other players directly.
We kept encounters short and chewed through as many as possible to build momentum and a variety of situations and challenges.
I complimented players often on aspects of the game large and small so they'd know what to do again.
I think the same approach could work for you, RF.
Understanding Characters
Do a quick walkthrough together of the character sheets.
I usually use pre-generated characters for new groups.
I create "shells" with core elements filled in, such as class, race, and equipment.
This helps players start playing faster, and takes care of some early heavy lifting.
Bring more characters than there are players so players have choice.
In case of character death, you can also get players back into the game fast with another pregen.
In my public restaurant game, I had each player roll a d20.
Highest rolls picked characters first.
Then I walked them through the "zones" of the char sheets: stats and skills, combat, equipment, and personality.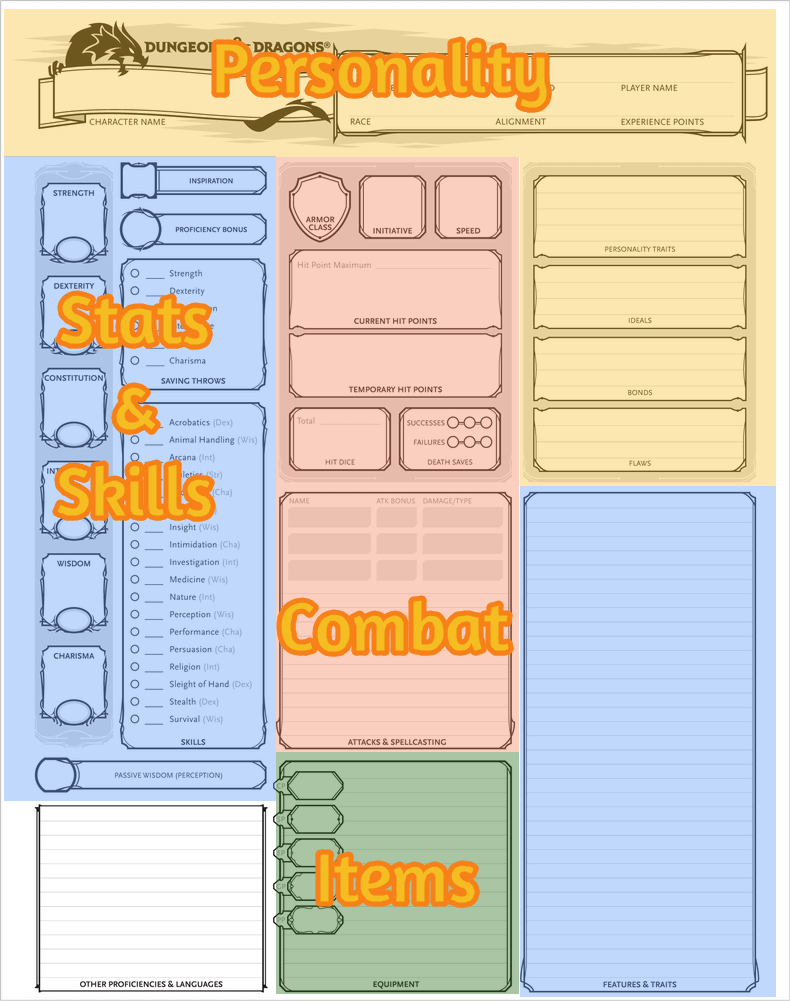 Next, I asked players to add a couple of personality traits, pick a name, and do some character tweaks.
Small customizations help players walk their sheets better and make characters feel personal.
The First Encounters Teach Players the Game
The initial encounters were pre-planned.
First one got characters meeting each other and the party formed.
Next one got them using senses and perception skills.
Then we got into movement and some action.
Then a short combat.
Each encounter basically targeted one zone on the character sheets for tutorial and use.
For example, when I introduced a skill challenge, I used that moment to explain skills, how stats and modifiers were calculated, and how to make skill checks.
Rather than explain all the rules up front and have players' eyes glaze over, I ran just-in-time learning type encounters to start.
While full character creation exposes players to the nuts and bolts of a game, I've found most of the information goes over their heads and isn't retained.
And unless players understand the consequences of their character creation options and choices, they don't learn a whole lot.
I'd rather let gameplay be the teacher. And then invite players to do some character refactoring or building a new PC between sessions.
Last edited: