I've been trying out the beta for vNext, and ran into an issue: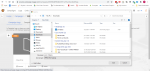 On the logs screen, when I click the download button, I am getting a download of filetype jfproj. I was a bit surprised by this, as I expected the file to be in json format, as it was before (which can make transferring info into another program easier. Is this file still just a basic json file that can be opened in an editor and used as any other normal json file, or will there be new changes that makes the format unreadable by a seperate json application?
Any clarification is appreciated.