New member
Adventure Builder
I've had access to Campaign Logger from the start and have tried to implement it into my game sessions several times but the chaos in my GM head during a session always made me forgot to take notes. I am now trying once more and now I want to succeed.
I tried to find some advice / resources but I couldn't really find any. I seemed to remember an set of emails with some sort of tutorial at the very beginning but I can't find any in my archive.
So I am starting in a home brew campaign that has been going for four years so to ensure I got some info available I made the following entries: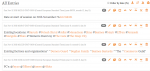 Now I got the following questions:
- is this the best way to set up tags for use during an upcoming session?
- what tips can people give on how to best enter info (structure etc)
- is there an example I can import to have a look at how someone else's done it (I believe there was an example if you first login to Campaign Logger)
Any help is appreciated.