Hi All
This is my first post. I am not sure if this is an error in my procedure or a bug...
When you make a tag referenced, it said on the RoleplayingTips site that it gives a unique link for the tag so if you want to directly link to is in another application you can... however i am not seeing that to be the case.
If I create a tagged entry I was hoping that entry would have a unique link.
However, What I am finding is that if you make a tagged reference before you create that tagged item. You will never get a unique link for that tagged item that I can see.
For example"
If I create an NPC:
NPC JoBob and then I reference a tag i hadn't created the content for say #Greyhawk.
If I click on the #Greyhawk it will take me to Jobob.
If I then create #Greyhawk and then click the reference to #Greyhawk on JoBob; I get both Jobob and Greyhawk instead of a link to Greyhawk only (which is what I understood would be a unique listing).
This is undesirable for me as I don't want to correct 100 listings that I upload. It also throws a wrench in using loopy planning at least in the logger for me.
If I filter for this on the main entries page it is ok to get both as that is what I am looking for. However I need that link to Greyhawk on an entry to go only to Greyhawk not Jobob and Greyhawk.
If I create the entry using *Greyhawk in Joebob. Then create the Entry #greyhawk and then update the links in Joebob,
then I still get the multiple results.
If I delete the loopy planning for *Greyhawk after creating #Greyhawk then Joebob gets deleted which is really undesirable.
Is there something I am doing wrong here? I don't want to stub everything as that forces me to manually touch everything to do data entry and I am going to be bulk uploading conent as I have nerve problems in my hands and arms and try and use voice as much as possible.
As an afterthought I added a screenshot ...
It is basically the same scenario but it has NPC Character Tag as the name (working on bulk uploading) and originally had *Race for loopy planing.
I then added @Humans and changed the *Race to @Humans on the NPC Character Tag Character. Buy now instead of getting humans I get what is shown. The Duplicate Humans was a test to see if I could double entry the same entry or if it would balk.
When I click on Humans from my perspective it should only show the Humans entries (Normally this would be one)
IF I delete the *loopy planning entry it will delete the character.
Any help here would be appreciated. Hope this isn't too confusing. If you make an entry like I descrived you can reproduce the problem. I set up TEST campaigns for these purposes.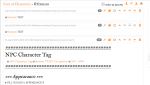 thanks
DM Mark
Last edited: